Hacking
Technology
▷Eyezy | Honest opinion. Is it used to monitor a SmartPhone? ✓
Is Eyezy worth it as a Parental Control app?
Advantages:
Wide variety of options.
Simple interface.
Easy management of Social networks.
Disadvantages:
High price.
Various devices increase the price.
Test mSpy as an alternative to Eyezy
Do you want to monitor a SmartPhone, but you don't know which application to use? Let me tell you that many people are in your position and looking for ways to monitor their own SmartPhone or those of their children but do not know which application to use for them.
That is why, on this occasion, we are going to recommend you to use the tool eyezy whose technology will allow you to monitor a large number of smart devices without problems. In this way you will be able to know in real time where these phones are, know if they are active, have a record of calls, messages and applications and much more. Here is also a list with The best parental control apps [For any device]
What is Eyezy?
Platform eyezy es one of the best monitoring and location applications for SmartPhone that you can find today on the Internet. Its interface and technology are advanced and easy to use, which will guarantee you have complete control of your cell phone wherever you are.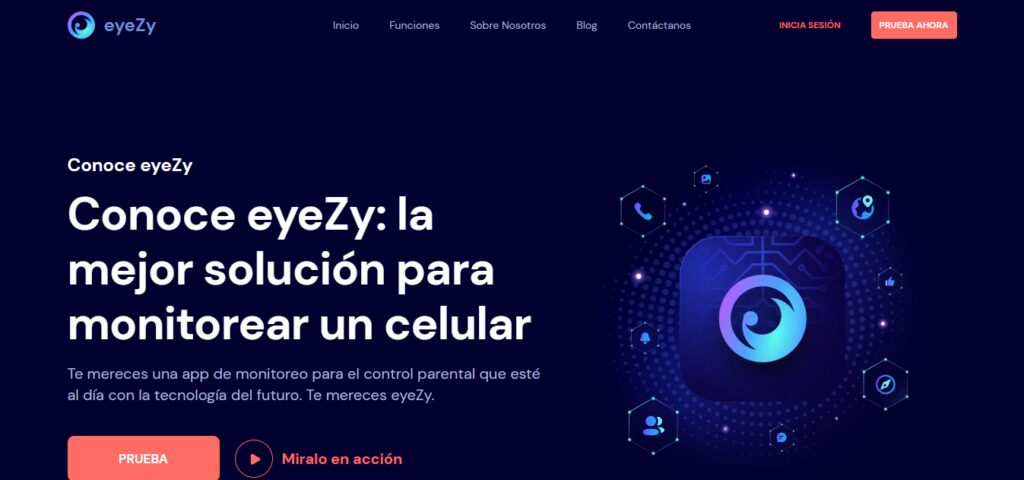 Locate a person's cell phone monitoring their activity is a fairly common activity today. In fact, it is perfectly legal and very practical in cases where you want to have good parental control, or you want to know where your personal phone is at all times.
Many times there is a tendency to confuse monitoring a cell phone with hacking it and they think that they are in danger using these applications, but do not worry, Eyezy is a very responsible company that will handle your data professionally and will record your activity as long as it has your authorization. Next, we are going to show you the services that Eyezy offers its users so that you can consider using this application.
What does it offer?
There are many platforms that offer you to monitor Smartphones, but Eyezy is the only one that offers you to see the results first hand. In fact, you can see in real time how the tool works using the link that we will leave below where you will see a panel like this:

In it you will be able to appreciate which are the characteristics of the phone that you can manage from Eyezy, which are the following:
List of messages from all social media of the telephone
List of text messages and calls
List of downloaded apps
La current mobile location as Wi-fi Are you connected
The calendar to find out events and alerts you have
You can see the multimedia content (Audios, videos, images, etc) that the phone has
List of open pages and web history
Block sites, Wi-Fi networks and applications remote form
Keep track of where you've been and know what you've done
A great advantage of the interface of this application is that you can count on all themobile data in question grouped in the home tray or see each segment separately in detail. So for its price we can say that it is an excellent tool. Next, we are going to tell you what plans are available in Eyezy.
What plans do you have?
Eyezy handles different rates depending on the plan you choose, which are 1 month, 3 months and 1 year. Then we will tell you the prices of each rate applying the discount code that the page gives.
The service for 1 month is priced at $47,99
The service for 3 months has a price of $27,99 (You save 35,99)
The 12-month service is priced at $9,99 (You save 51,83)
Next, we are going to show you how you can sign up for eyezy so that it is not difficult for you and you can use their service as soon as possible.
How can I Sign up for Eyezy?
The steps you have to follow are simple, but you must follow them to the letter to avoid problems. Only follow our guide so you can start using this Software once and for all simply and quickly.
Step 1: Create your account
The first thing you should do is register your account with your email. You must go to the link that we leave you here! which will send you to a window similar to this.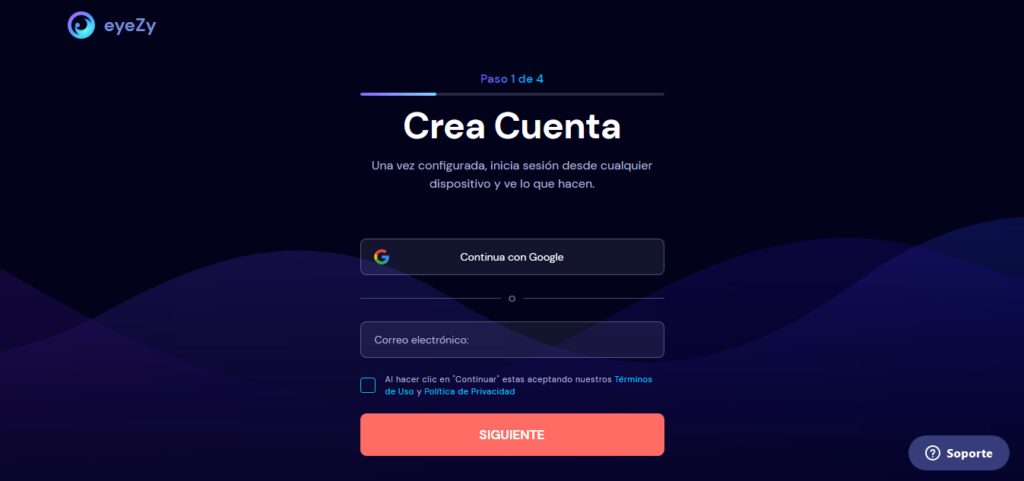 To start the registration you just have to enter your contact information, if you are a Gmail user you can use the button continue with Google which will make the job easier.
Step 2: Select the device to monitor
This option is simple, you will be shown a list with 3 options in which you will mark if you will supervise an iOS or Android device.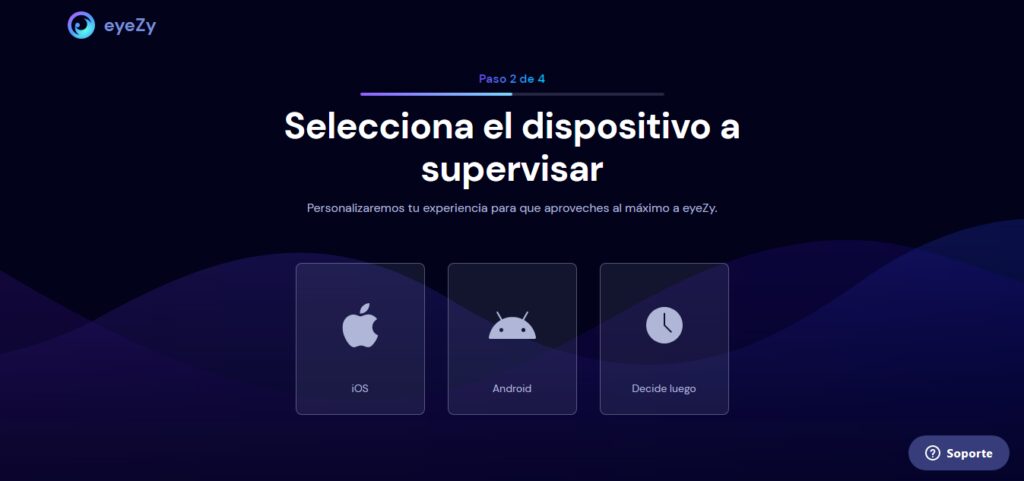 If, on the other hand, you want to indicate the device, then you can do it without any problem by pressing the relevant option.
Step 3: Choose your plan
The next thing will be to choose the plan you want to contract, just select the chosen plan by clicking on the selection box.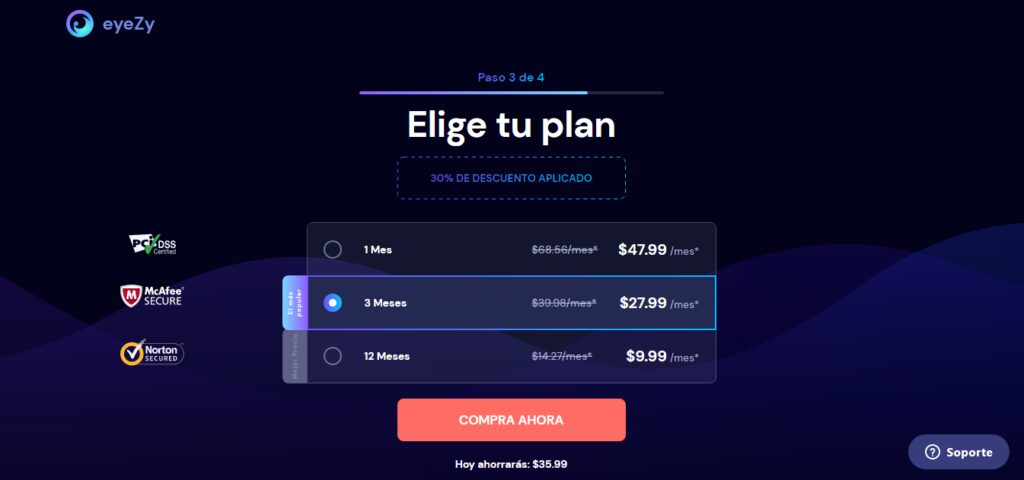 In each of the options you can see how much you are saving at the bottom of the purchase button. Once selected, you only have one step left to complete the subscription.
Step 4: Provide your payment method and pay
The last thing you should do is verify that your purchase is correct, enter your payment method. Eyezy accepts Visa, Mastercar, Discover and American Express debit and credit cards. Once you add your payment method you must pay the invoice and that's it. With that you will have your active account and you will be able to link your first SmartPhone.
How can I link a SmartPhone in Eyezy?
The steps to link a SmartPhone are super simple to perform, then we are going to show you what they are so that you do not have problems when performing the steps. We invite you to follow our guide to the letter to avoid inconveniences.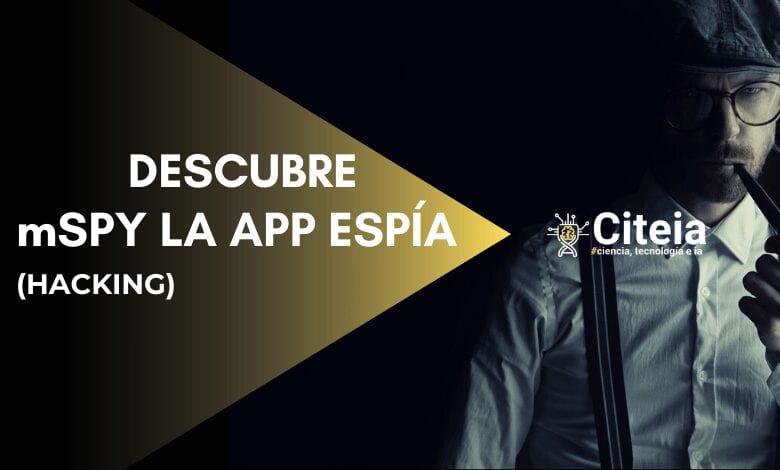 Check out this guide to the best Android and iOS parental control apps.
Step 1: Select the type of Device
Upon entering the initial panel and after having selected your language, the tool will ask you to configure your first device. To do this, you must click on the "Start" button to begin the process.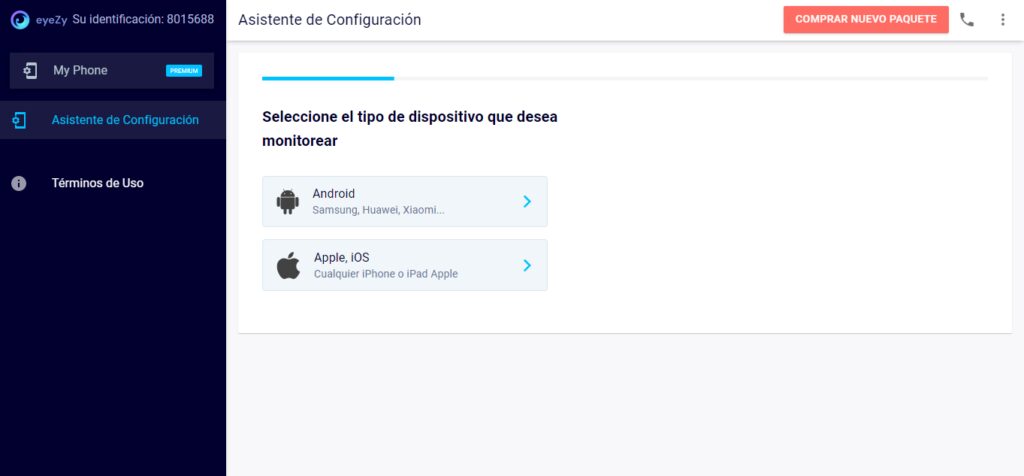 After that you must indicate that you have full access to the terminal control of the terminal, otherwise you will not be able to use this tool.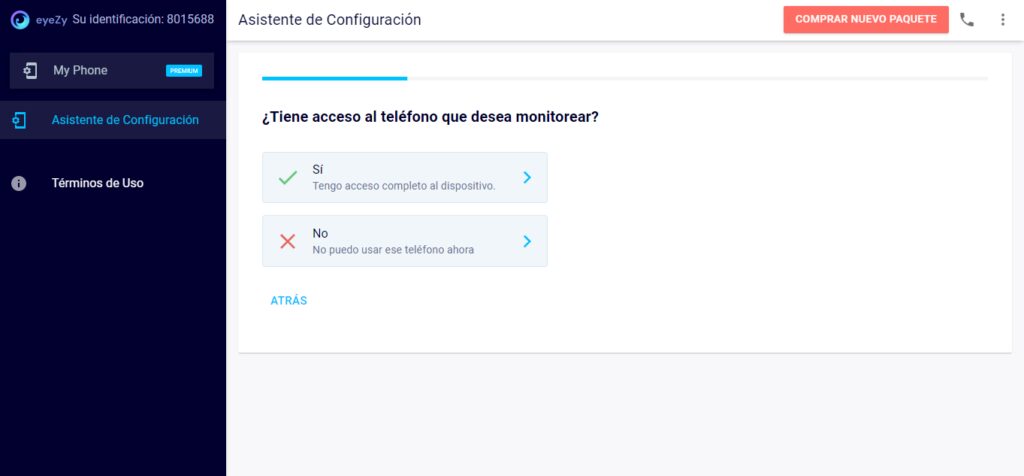 After that you will need to select the device brand from the list of brands provided by Eyezy.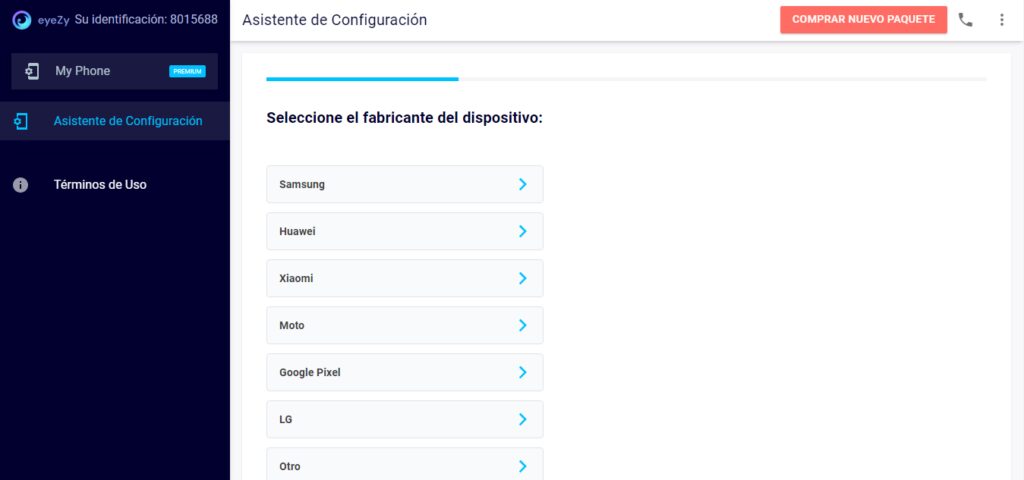 Once that part is completed, the page will indicate some guidelines that the phone must meet before starting the configuration, such as that it is charged, has an active Wi-Fi connection and is unlocked.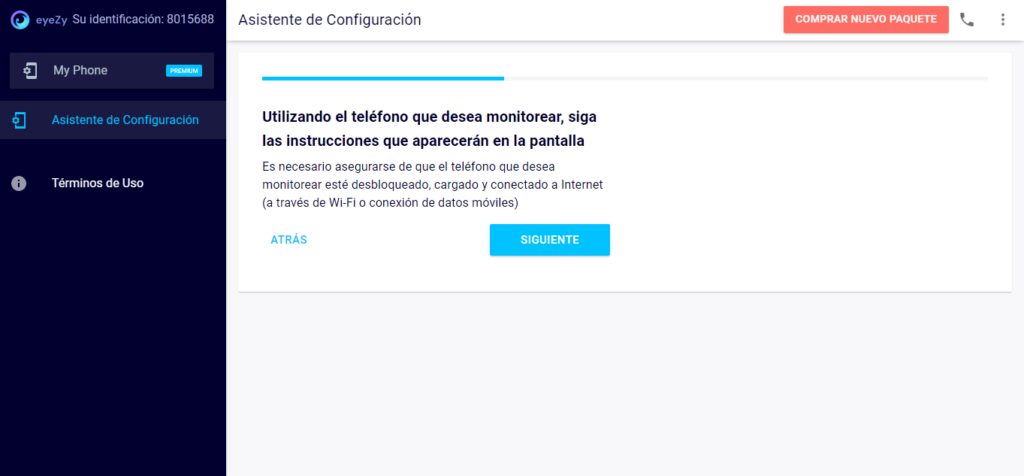 Once you verify that you must click on the "Next" button to continue.
Step 2: Disable PlayProtect and download Eyezy
The next thing you should do is disable the protection that the PlayStore gives to the applications on your phone. This is done following the same indications that the page gives you in this section.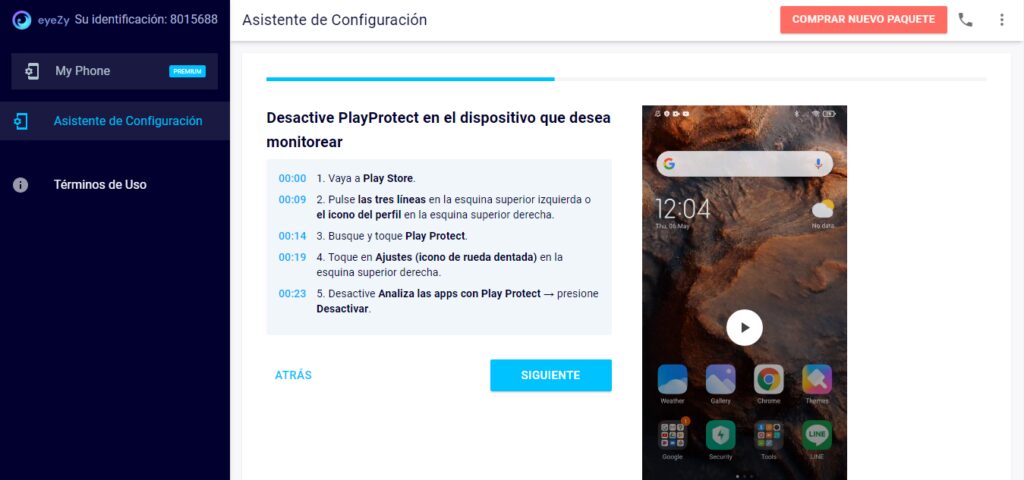 At the end you must click next and after that you must download the application, which for security reasons you must do by following the steps shown on the page.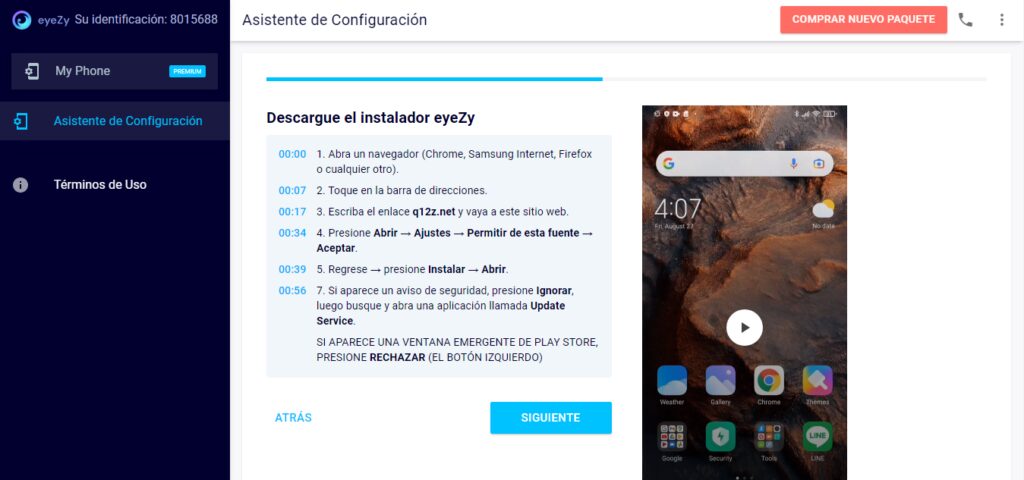 Once the application is installed on the phone, you must open it and enter a code that Eyezy will provide you. For that you must click next and the code will be displayed.
Step 3: Clear traces and add Eyezy to the list of unmonitored apps
Once you have the app configured, you must delete the download trace. For that, the platform shows you how to do it in the next window.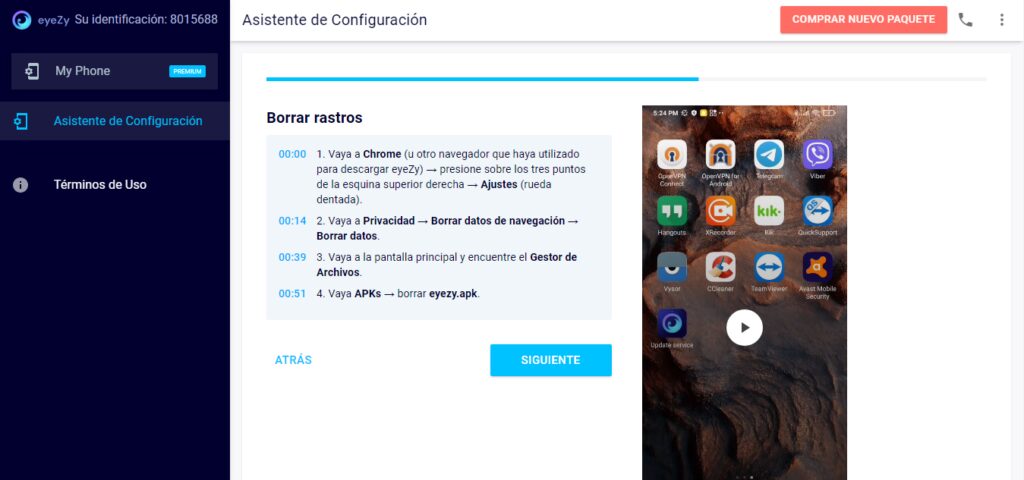 After that you must place the app in the list of unmonitored apps within your SmartPhone, just follow the guide that is shown on the platform and you will have no problems.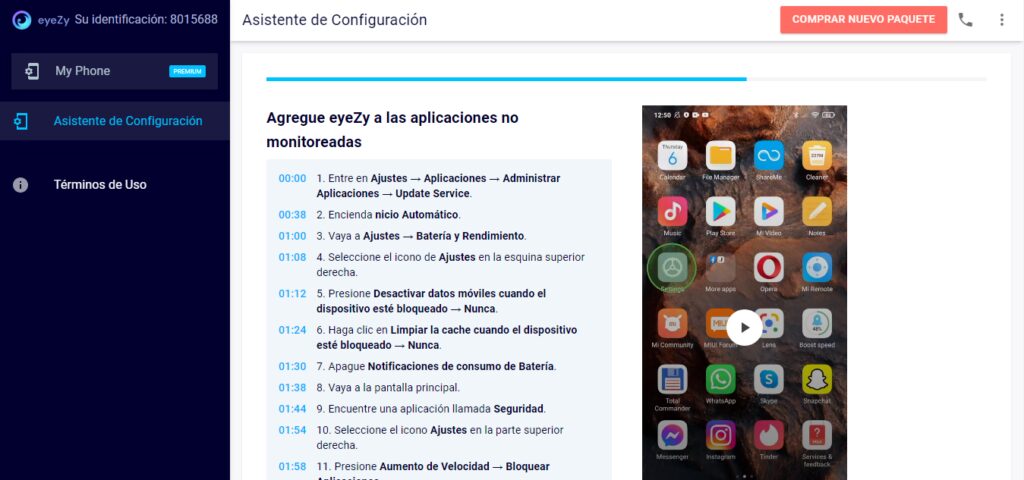 Step 4: Location Verification
With this, you will almost have your phone settings ready, the only thing left is to verify your current location so that Eyezy is operational. To do this, you simply have to activate the phone's GPS and that's it.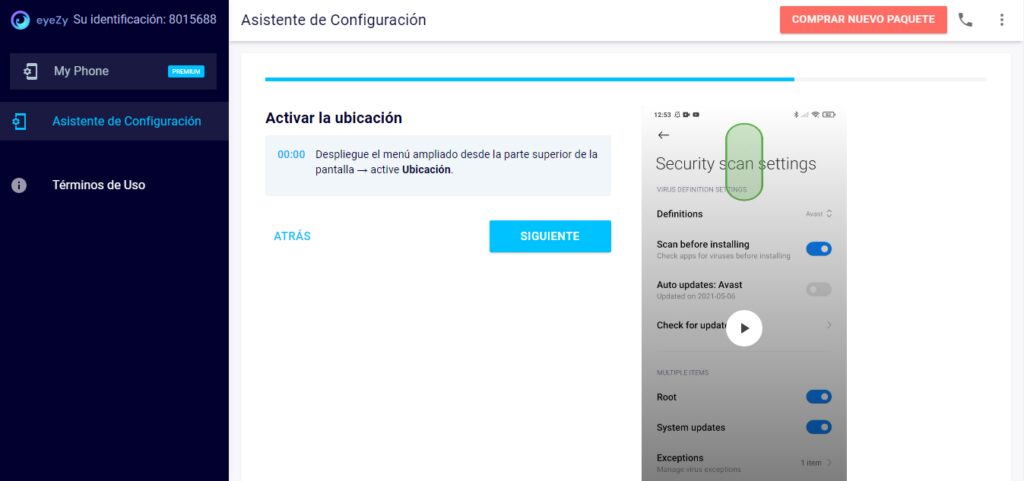 If you completed the steps to the letter, when you click next, a window like this will appear: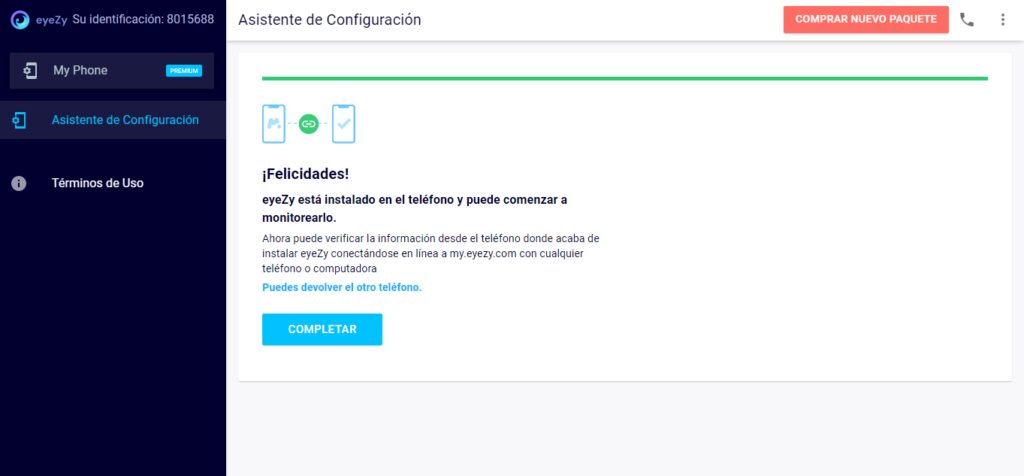 It should be noted that the configuration of your SmartPhone may be a little different, since each brand has its own conditions of service. In that case, all you have to do is follow the Eyezy setup wizard that will guide you through the additional steps you are asked to do.
Is Eyezy the best option to monitor a SmarPhone?
Many people want to know if Eyezy is the best option when it comes to monitoring a SmartPhone, whether it is a person or our children, patents or family members. That is why we are going to show you what the advantages and disadvantages of this tool are so that you keep them in mind.
Advantages of Eyezy
There are several advantages to using Eyezy, but we are going to focus on 3, which are the ones that we consider the most important.
Wide variety of options: This tool is one of the most complete and has endless features that you can explore and will give you complete control of the SmartPhone you use.
Simple Interface: Another great point in its favor is that, although it has a large number of options, its interface is not cluttered and is quite simple to use.
Easy management of Social networks: Finally, we can say that one of Eyezy's strong points is its excellent remote management of social networks, giving you complete monitoring and allowing you to keep a record of all your activity.
This tool is very versatile and has a multitude of uses. However, that doesn't mean it's perfect. Next, we are going to tell you the points that Eyezy has against.
Disadvantages of Eyezy
Unfortunately Eyezy is not exempt from having flaws and we are going to mention 2 that are the ones that we consider the most important.
Price: The first thing we are going to tell you is the price, which is somewhat excessive for what is usual in this type of application and that is considering that you can use a discount code. Otherwise, the service will be more expensive.
Having multiple devices increases the price: Another point that we can say against Eyezy is that apart from being quite expensive, a membership only covers one device. If you want to add more devices the price will increase.
As you can see, they are points against that you must take into account when using this application. Below, we are going to give you our personal opinion about Eyezy and our experience using it to help you decide whether or not to purchase its services.
Personal opinion
The monitoring tool Eyezy is one of the most complete and specialized apps location and remote phone management. It is a powerful tool that for specific situations can make a lot of difference. Especially if you are one of those who likes to keep a constant record of their activity or the activity of their children.
Particularly speaking of this last mentioned option, one thing that caught our attention about this application when using it as a means of parental control is that you can know at all times what your children are doing, where they are and also block or unblock applications and pages remotely.
Something that is quite practical in specific cases such as those who do not want to sleep and whether it is very late at night where they simply You can block access to Wi-Fi and cell phone data. Another thing that stands out is that you can manage all the digital information you have on your mobile and view it remotely from your computer, which has many uses.
However, what discourages is the price and the difficult situation of having to pay a separate fee for each configured mobile. However, If this matter does not bother you or you need this type of service for a certain time, you can use it without problems.. Otherwise, you can get simpler apps that fulfill this service well enough for a lower price.
We hope that this guide has been useful to you and that you have all the information you need to decide whether to start with Eyezy or not. We recommend our other monitoring and parental control articles since at citeia we are passionate about helping people and making their lives as simple as possible.